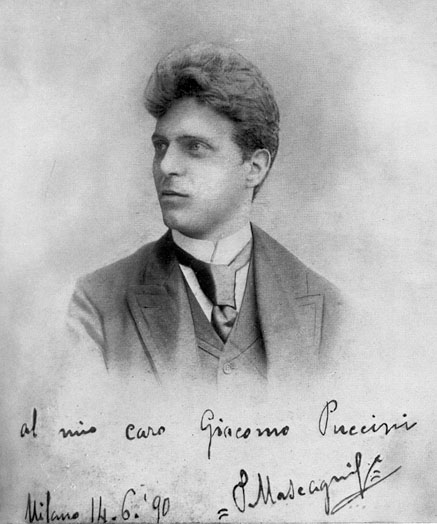 Pietro Mascagni, 1890

Als Studenten teilten sich Puccini und Mascagni dieselbe Wohnung und waren gute Freunde. Später verdächtigte GP den Konkurrenten diverser Intrigen, was wohl nicht den Tatsachen entspricht. Auch mied er gezielt Mascagnis Gattin, die berüchtigt dafür war, ihrem Mann in aller Öffentlichkeit heftige Szenen zu machen.

As students GP and Mascagni shared the same flat and where good friends. Later GP suspected his rival to plot schemes but that wasn't probably true. GP also avoided Mascagnis wife who was famous for making vehement public scenes to her husband.